A barcode inventory management system can help your small business to increase efficiency and save time and money.
A standard barcode inventory system includes hardware (such as printers and barcode scanner) and barcode software.
Small business barcode inventory system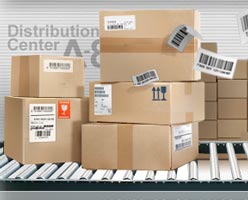 For some small businesses it's sufficient to use a barcode software that allows to create and print labels with barcodes.
Others businesses need an barcodes inventory system for small businesses capable of handling the orders and the stock in the warehouse.
Recall that if you are a small retail or small company that sells products for which you own the rights you need to buy UPC barcode number. If you sell products that have already UPC barcodes, buy a barcode is not necessary.
What do you need for a Barcode system?
Barcode generator
You first need a software that can generate barcodes. There are two types of barcode software for small businesses:


Barcode creator software: that gives only the possibility to generate barcode.
Read guide how to generate barcode.
Barcode label software: this type of software is suitable for small businesses because, in addition to generate barcodes, allows you to customize the labels with logos, text and images.
Look out features of one of the best label software for small business as Labeljoy.
Printer


To get a complete small business system you must be able to print your own labels. Depending on the software used, you can print the labels with laser printers (recommended for high-quality barcode) or inkjet, print individual labels with roll printers or multiple labels on the same page.
Scanner reader


There are different types of scanners to use: barcode scanner for PC (link), wireless scanners. This is discussed more fully in section "barcode scanner".
Although the initial investment may be costly, a good barcode system for small business will bring advantages in terms of ease of management, therefore saving time and making order, which is always translated into saving money.