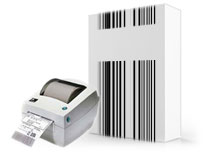 A barcode printing software is the fastest way to print high quality barcodes, labels, text and graphics on both standard and roll printers.
Basically, once you have got your own barcode serial numbers (requesting them at the local GS1 office), this kind of software allows you to generate the correlated barcode graphic, encoding the information in the proper way — so that it can be put on retail products and easily scanned.

Barcode Software for Label Printing and Design
There are many choices on the market, but a good barcode printing application should at least:
Support different barcode symbologies

for instance EAN-13, UPC, Code 128, Code 39, Interleaved 2 etc.

Allow to generate both 2D and 3D codes

of any size (to best fit your product), also verifying their exact density according to the GS1 official guidelines;

Provide an easy-to-use WYSIWYG editor

to simplify the process of barcode crafting and printing;

Allow to export the barcodes in different formats

as pdf, jpg, tiff, png;

Guarantee that all generated barcodes work correctly

and can be scanned effortlessly.
Some good barcode printing applications that fulfill all these requests are LabelJoy, Bar Tender and Label Flow.