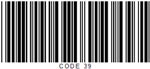 The best way to create professional barcode labels is to use a code 39 barcode generator software, so you just need to write codes or import data from a databse and press ok to generate automatically how many code 39 you need.
How to generate a code 39 barcode
The code 39 barcode generator allow to print your own free code39 from Windows or export it in graphic formats as jpg, pdg, gif.
Step 1: Select the barcode Code 39 from the list
When it comes to create a barcode file, first of all you have to choose the right barcode that you want to generate. Select Code 39 from the list of barcode that can be created by the software.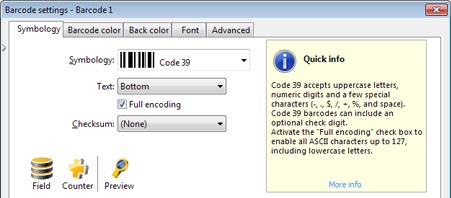 Step 2: Creation options
With Labeljoy barcode software you can customize your barcode to adapt it to better suit your needs. You can:
Full Encoding: activate the "Full encoding" check box to enable all ASCII characters up to 127, including also the lowercase letters.
Text: choose to display text above the barcode, under the barcode, or not display it at all.
Checksum: choose to include the optional check digit only on the barcode or on the text too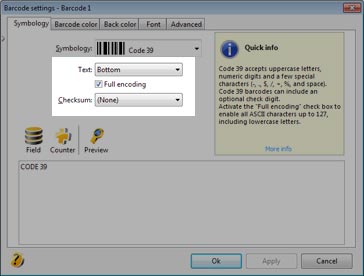 It's possible to change the color of the code and its background, to change the font and the margins in a simple and intuitive way with this code 39 generator software.
Step 3: Insert code 39
To generate code 39, you can enter the code in the text field in 3 different ways:
Manually write the code
Use of incremental counter
Import codes from an external database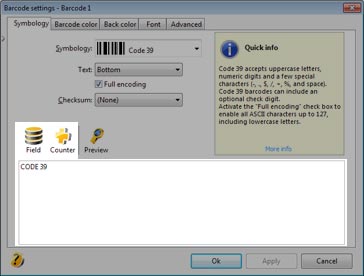 The Code 39 barcode generator automatically calculates the check digit, and in the case of an incorrect value, will notify you with an error message.
Dimensions of barcode 39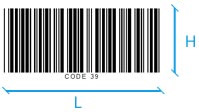 The size of the symbol depends on the thickness of the module and the printing ratio. The height of the bars depends on the application field.
The minimum height (for light pens or barcode readers) is 6.5 mm (0.25 in ) or 15% of the length of the code.
Instead using laser scanners the height of the bars must be at least 20 mm (0.79 in) or 20% of the width of the symbol.
The smaller nominal thickness of the module is 0,19 mm (0.0075 in), for codes with high density printing.