The barcode label is widely used in all types of retail, and it's one of the most widely used techniques of cataloging for its effectiveness and simplcity.
There are many manufactures of barcode labels suitable for all sectors, for inventorying and classification, identification of industrial, pharmaceutical and commercial products.
The graphic elements in contrast on the bar code must be perfectly sharp, and printed ina way to make it easy to be scanned by the barcode reader.
Barcode labels for Inventory and cataloging
One of the best techniques for printing barcode labels for inventory is the "variable data printing", that is to print labels with consecutive numbering integrated in the barcode encoding. This is possible thanks to professional barcode label software.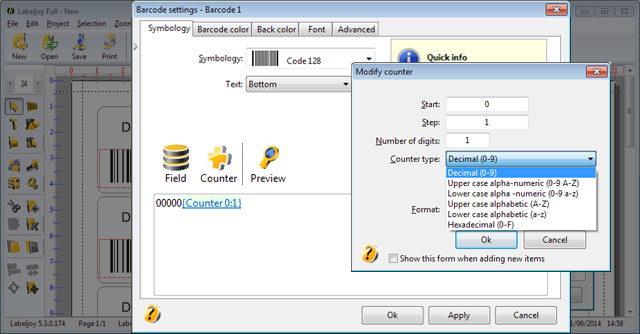 Recall that the software for printing labels are used to print on different sizes and different types of paper depending on the printer in use: classic print on adhesive paper, thermal or laser printing for improved quality and durability.
Template of barcode Labels
There are many websites that offer templates for labels with barcodes ready to print. In this case, you simply download the labels and edit the images or barcodes connected to the database.


Labels with barcode counterfeiting
The use of barcodes, also, is a great method to catalog and guarantee security anti-theft and anti-counterfeiting.
The labels produced by a barcode creator software are customizable like the printing technique, the material used, the size, the shape and the color.