The best way to create a barcode Code 128 is to use a professional code 128 generator.
The Code 128 is a linear bar code symbology capable of encoding the full 128-character ASCII character set and extended character sets.
Generate Free Barcodes Online
It's possible to use code 128 generators online, but websites allow you to create only one code at a time and require internet access. More datails can be found on our article about online barcode generator.
Some online barcode code 128 generators are:
Code 128 Generator Software
Let's look how to create a code128 by using a free barcode software that allows you to create many types of barcodes like Code 128, and allows you to save them in various graphic formats like jpg, gif, pdf.
The software directly calculates the checksum digit (link code 128 check digit) for verification included in a Code 128 Symbol.

The
software taken as an example is simple and intuitive
and allows to create barcodes in 3 steps.
Step 1: Create a barcode field
Open the software, double-click on the dafault barcode or create a code field with the button.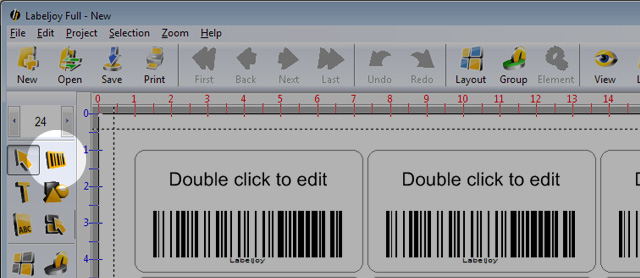 Step 2: Code 128 from list
Select "Code 128" from the list of bar code symbologies that can ben generated by the software.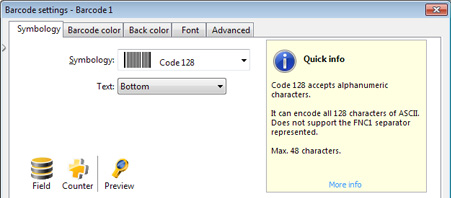 Step 3: Generate Barcode Code 128
At this point you have 3 ways to enter the codes that will generate the barcode:
A. Enter the code manually
Enter the code manually into the filed and press "OK". You can click on "Preview" to check if the code has been entered correctly.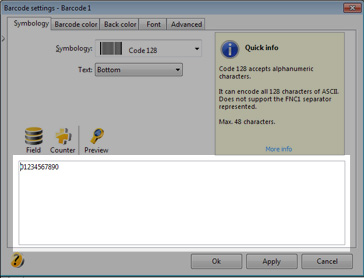 B. Create barcodes with an incremental counter
Enter the suffix of the barcode code 128 to generate the appropriate field
Click on "Counter" and choose the type of incremental counter to be inserted.
Click on the blue writing just entered to change the settings of the counter
Click on "Ok"
Choose the number of the barcode to be generated by clicking on the arrow in the upper left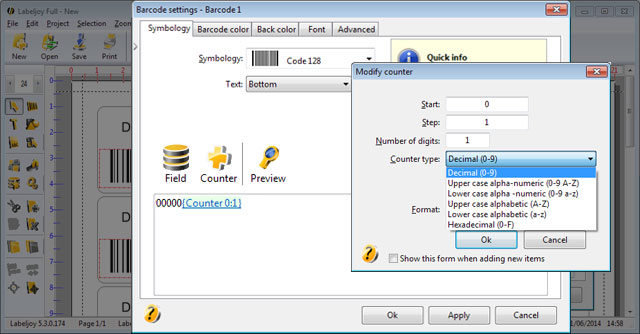 See the Video:
How to use incremental counter
C. Generate code 128 from Database
For this type of operation refer to the tutorial: