How to generate a barcode for Your Products

A bar code consists of a optical translation of an numeric or alphanumeric code in a group of graphical elements with high contrast. These elements (vertical bars alternating with white space), have a provision to allow a scanning sensor to identify them.
Each barcode must therefore always have a white background, to be able to be read to perfection by the laser scanner.
If you are looking for an easy, fast and free way to generate barcodes to be used for testing purposes but do not know how to do, in this guide you will find a solution and you will realize how easy it can be to generate barcodes.

Generate barcode by webiste
There are several sites that can be useful to create your own bar code here you can find a free service that allows the creation of custom barcodes:
To use
Online Barcode Generator
, you need to:
Log on to the home page of the website
Select the standard to use (eg, EAN-13 used in the publishing field) from the Symbology drop-down menu
Fill out the form below with the various details of the barcode that you want to create (content, size, options, etc..)
Click on Make Barcode: this way your barcode is generated.
As soon as you are
able to see the barcode obtained
(in the bottom of the page), you can save it on your computer in different file formats: to do this you have to click on the terms EPS, PNG, and then on JPEG.
As you can see, there is nothing particularly complicated.
Generate professional barcode labels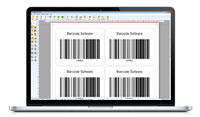 If you wish to instead generate a large amount of barcodes, suited for small and medium businesses, you can always find a solution completely free by choosing among the best software barcode generator.
Connect to the site Top10Reviews and choose among the best barcode software, including Labeljoy, Avery: in this way you will get professional barcode free.